Supported FC MEMEXTM document file types
FC MEMEXTM supports various native file formats. Every supported document type can be full text indexed and retrieved with the provided FC MEMEXTM applications.
A brief overview: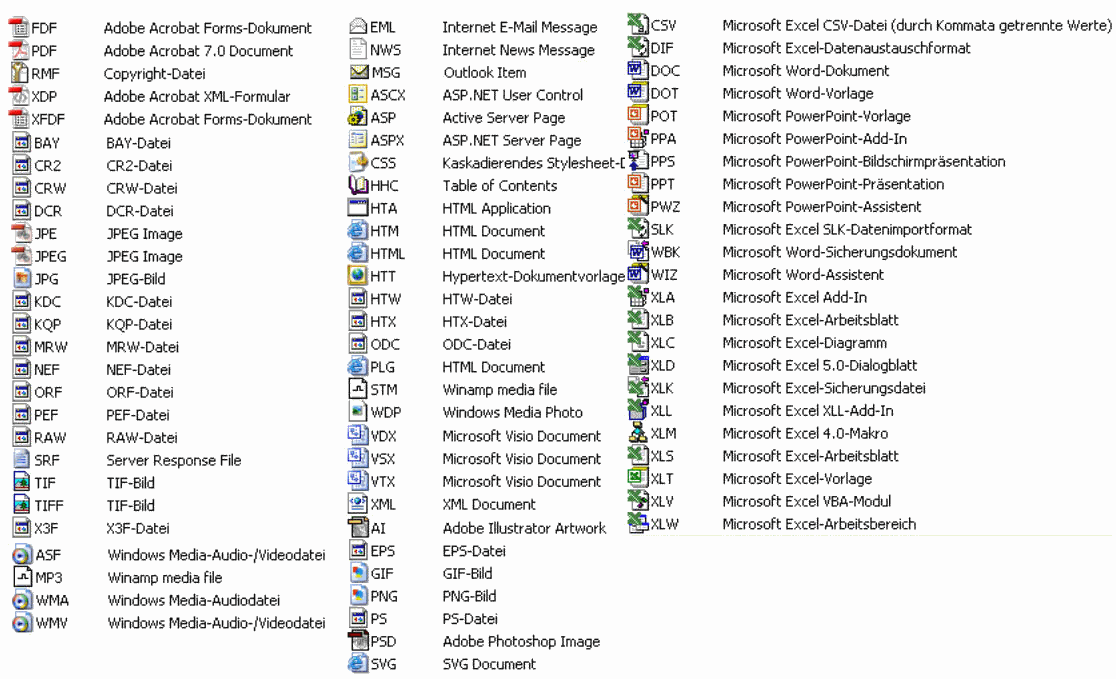 The following table presents a brief overview of directly supported file types and provides following informations:
• Well known file extension
• Sample query result form showing a file of this type
• The first property page presenting a preview of the corresponding file
• The second property page showing detailed file properties
This page will be updated regulary as soon as new document filters are available. Not all supported file formats are displayed below. If You have a custom document file type we can offer custom filter plugins to support these files. Please
send us a brief description
about Your file requirements and we'll come back to You with a detailed offer.
Please click on each figure to get an enlarged presentation.
File type

Query result

Properties 1/2

Properties 2/2

PDF





Adobe Acrobat Reader

DOC





Microsoft Word

JPG





Most imaging applications and digital cameras

TIF





Many imaging applications, medical applications

XLS





Microsoft Excel

PPT





Microsoft PowerPoint

VSD





Microsoft Visio

HTML






DWG, DGN*





AutoCAD
* : these file types need a special filter plugin which is available free or must be purchased extra.
Copyright 2004-2007 by RSWE. All rights reserved.
FC MEMEX is a registered trademark of RSWE.